Howard Cable (in memoriam)
Howard Cable, CM, has been a leading figure in the musical life of Canada for over 50 years. He studied at the Royal Conservatory of Music in Toronto with Sir Ernest MacMillan, Ettore Mazzoleni and Healey Willan. His early years were spent in radio when he succeeded Percy Faith on CBC in 1941. He has composed and conducted over 1000 radio dramas and variety programs. For several years, the Howard Cable Concert Band was heard nationally on the CBC and throughout the U.S. on the Mutual Radio Network. On television, he was musical director and arranger for many celebrated telecasts, including the highly popular "Showtime."
Cable's familiarity with a broad range of repertoire has kept him in demand as a composer and arranger for the Elmer Iseler Singers, the Toronto Mendelssohn Choir, Sharon, Lois and Bram, the Toronto Children's Chorus, True North Brass and the Hannaford Street Silver Band. This has resulted in the recording of his compositions and arrangements on many record labels and performances worldwide.
His work in musical theatre has led to notable collaborations. On Broadway, he arranged for Richard Rodgers, Meredith Willson and Frank Loesser. In the entertainment world, he has conducted for Ella Fitzgerald, Tony Bennett, Peggy Lee, Bob Hope, Victor Borge and Danny Kaye. In Canada, his theatrical credits include appearances as guest conductor at the Banff and Shaw festivals and he has provided numerous scores for the Charlottetown Festival.
His 20-year association with the Canadian Brass has resulted in his writing over 80 compositions and arrangements. He has arranged for the Canadian Brass collaboration with the Mormon Tabernacle Choir as well as their Lincoln Center concerts with the New York Philharmonic Brass.
The Toronto Youth Wind Orchestra is proud and privileged to have had a close association with this Canadian icon as Honorary Patron of our organization.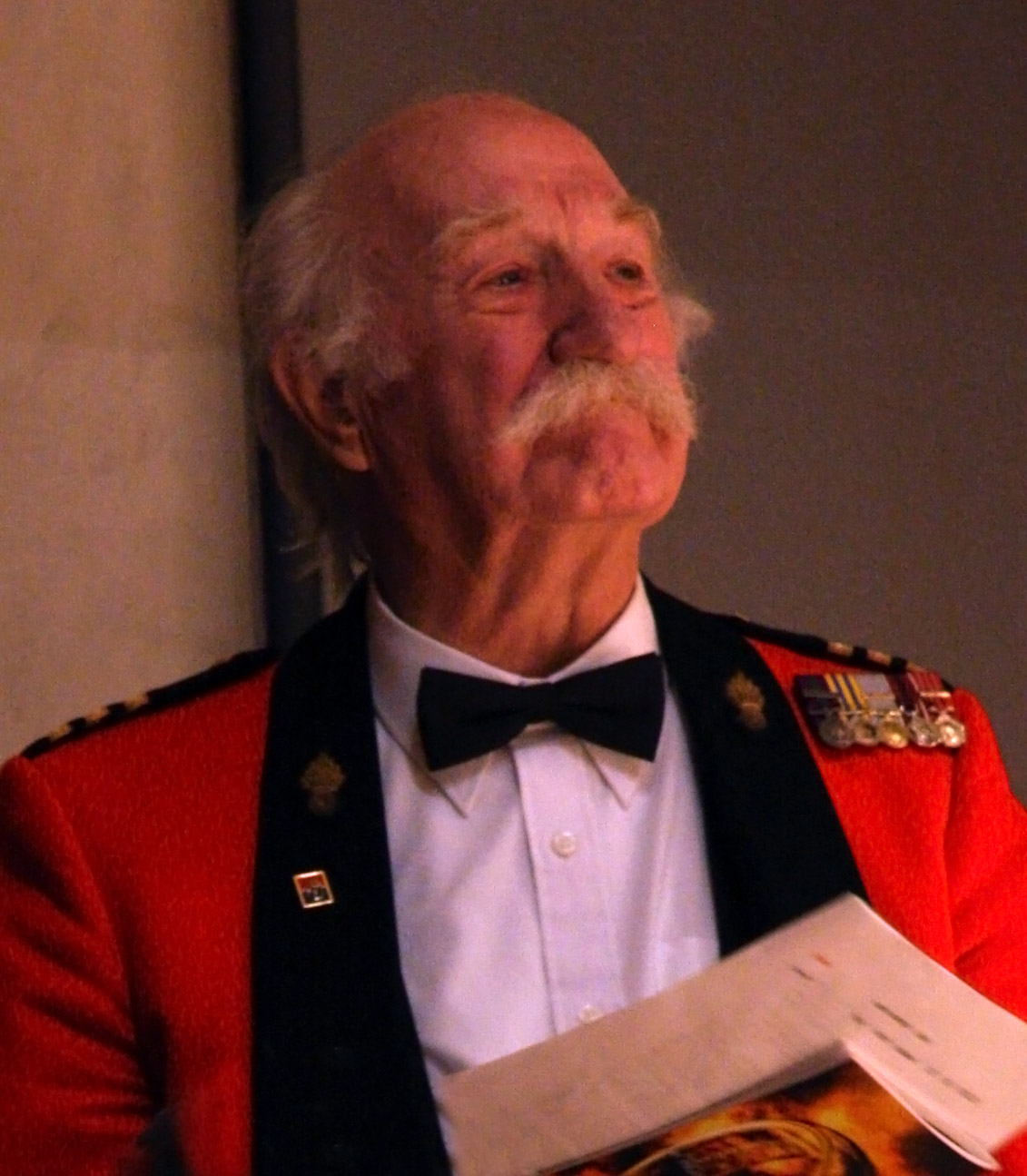 Bobby Herriot (in memoriam)
Born in Edinburgh, Scotland, Bobby started his musical career with the Newtongrange Silver Band, the Dalkeith Burgh Band and the City of Edinburgh Band. He received his formal musical education at The Royal Military School of Music (Kneller Hall), Royal College of Music and Royal Academy of Music and served in the Regimental Bands of The Royal Dragoons and Royal Horse Guards. In 1957, Bobby joined the Royal Canadian Air Force where he served in Edmonton's Tactical Air Command Band and in Ottawa's RCAF Central Band. In 1960 he was transferred to the NORAD Band in Colorado Springs.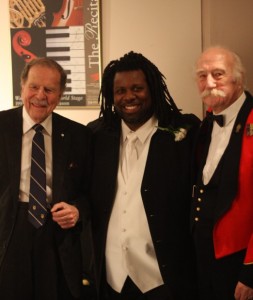 After leaving the Forces in 1966, Bobby performed in Vancouver as a freelance musician and lectured at UBC's School of Music. Always in demand as a conductor, adjudicator, clinician, music arranger and renowned trumpet soloist, Bobby continued his successful musical career throughout Canada and the U.S. Moving to Toronto in the early 1970s, Bobby performed with Howard Cable, Rob McConnell, Guido Basso, Dave Woods and many other well known Canadian bandleaders. He led his own popular dance band and became Director of Music for the 7th Regiment, Royal Canadian Artillery Band. Bobby retired from the Canadian Forces in the rank of Lieutenant-Colonel.
Bobby is the past President of the Toronto Musicians' Association and conductor of the Greater Toronto Area Teachers Wind Ensemble. He serves as an advisor to Canadian performing arts agencies and is the recipient of many national and international music awards, including the Canadian Band Association National Band Award, recognizing his significant contributions to music, music education and the business of music.
Respected and loved as arranger, composer, conductor and performer; loved a little less for his wicked sense of humour,the Toronto Youth Wind Orchestra extends a warm welcome to Maestro Bobby Herriot.
Canadian Brass
With an international reputation as one of the most popular brass ensembles today, Canadian Brass has truly earned the distinction of "the world's most famous brass group."
Friends Chuck Daellenbach and Gene Watts first came together in 1970 to form a brass quintet — a chamber music setting not entirely new, but never before having garnered the success and storied career Canadian Brass would achieve over the next 40 years. Initially, Gene took on the role of developing new repertoire while Chuck was the moving force in marketing, publishing and managing the business. Three empty chairs were quickly filled and together, the group's imagination and consummate musicianship elevated the art of the brass quintet to what it is today. Here was not only an opportunity to explore the possibilities of an all-brass chamber group but a challenge to bring the sound and the excitement of brass music to new audiences.
Masters of concert presentations, Canadian Brass has developed a uniquely engaging stage presence and rapport with audiences. Each of their concerts will show the full range from trademark Baroque and Dixieland tunes to new compositions and arrangements created especially for them – from formal classical presentation to music served up with lively dialogue and theatrical effects. The hallmark of any Canadian Brass performance is entertainment, spontaneity, virtuosity and, most of all, fun – but never at the expense of the music:
Whatever the style, the music is central and performed with utmost dedication, skill and excellence.
With a discography of over 130 albums and an extensive world-wide touring schedule, Canadian Brass is an important pioneer in bringing brass music to mass audiences everywhere. They have sold well over 2 million albums worldwide, with 1.2 million sold in the Nielsen Soundscan era alone (since 1991). They continue to score Billboard chart positions — like with their rousing recording of patriotic songs and marches, Stars & Stripes: Canadian Brass Salute America, which spent 8 weeks in the Top 25 on the Billboard Classical Chart, peaking at #2! Touring legends with an enthusiastic fan base, the Canadian Brass play to packed houses everywhere throughout the USA, Canada, Japan and Europe. They have also toured Australia, the Middle East, the Soviet Union and South America. They were the first brass ensemble from the West to perform in the People's Republic of China (where they returned for a 5-city tour to great acclaim in the spring of 2010 and several visits after this, including an appearance on Hunan TV for Chinese New Year) as well as the first brass group to take the main stage at the venerable Carnegie Hall. On numerous occasions Canadian Brass has been invited by the Canadian Government to play for visiting heads of states, becoming one of Canada's greatest resources and musical ambassadors.
TYWO has shared the stage with this outstanding ensemble twice in recent years, and we are thrilled to count them as part of our Honorary Patrons.
Heather Bambrick
Heather Bambrick, winner of the 2004 National Jazz Award for Vocalist of the Year, is in demand as a performer, educator, and broadcaster. The native Newfoundlander is a graduate of the University of Toronto Faculty of Music, and is currently on faculty both at U of T and Humber College. She has performed with international Jazz artists, including Phil Nimmons, Kenny Wheeler, Guido Basso, Darmon Meader, Peter Appleyard, John Lamb, and Rob McConnell.
Heather has recorded with numerous acts, including the Royal Jelly Orchestra, Carol Welsman, the Caliban Quartet, and The Beehive Singers. Her own debut CD It's About Time (2003) was nominated for Best Jazz Recording at the 2004 East Coast Music Awards and is enjoying international praise and radio airplay. Her follow-up recording Those Were The Days has also been nominated for Best Jazz Recording at the 2007 East Coast Music Awards. She will be featured as a guest vocalist (along with theatre great Rudy Webb) on an upcoming release featuring the music of Irving Berlin and award-winning actor, musician, and songwriter Irving Dobbs.
On stage, Heather is a consummate entertainer, performing for standing-room-only crowds at venues across Canada and in the US and bringing audiences to their feet at some of the country's most prestigious music festivals. Her live shows are a combination of timeless songs, brilliant musicianship, and Heather's unique sense of humour – all adding up to pure entertainment.
Heather's voice has been heard throughout North America on radio and television commercials, as well as on film and television soundtracks. Since 2001, Heather has firmly entrenched herself in the world of broadcasting, hosting the highly popular "Sunday Afternoon Jazz", on Canada's only all-Jazz radio station, Jazz FM91. Heather was honoured with Broadcaster of the Year awards at both the 2005 and 2007 National Jazz Awards.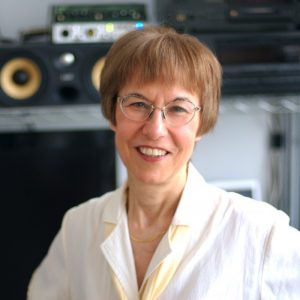 Elizabeth Raum
Elizabeth Raum's career in music commenced in Halifax where she played principal oboe with the Atlantic Symphony Orchestra before embarking on a 14-year tenure with the Regina Symphony.
Ms. Raum has established herself as one of Canada's most eminent composers with commissions coming from such important performing groups as the Royal Winnipeg Ballet, St. Lawrence String Quartet, Symphony Nova Scotia, the Calgary Philharmonic, the CBC, the Hannaford Street Silver Band, and numerous others, with her music played throughout the world.
With countless commissions, awards and honours bestowed on her, among them, an honorary doctorate in Humane Letters from Mt. St. Vincent University in Nova Scotia, among the most important of her works is a full-length opera, "Time of Trouble", commissioned by Opera Nova Scotia in December, 2016.
A prolific composer, her works include 4 operas, over 80 chamber pieces, 18 vocal works, choral works including an oratorio, several ballets, concerti and major orchestral works. She enjoys a reputation of being one of Canada's most "accessible" composers. Her Trombone Concerto, recently performed by the Wind Orchestra, endeared her to our organization and we are proud to count her as an Honorary Patron.
Jens Lindemann
The first classical brass soloist to ever receive the Order of Canada, Jens Lindemann is hailed as one of the most celebrated artists in his instrument's history and was recently named "International Brass Personality of the Year" (Brass Herald). Jens has played both jazz and classical in every major concert venue in the world, appearing internationally as an orchestral soloist, featured at the 2010 Olympics for an audience of 2 billion people, national anthems at the Rose Bowl and for the San Francisco Giants on Memorial Day, performing at London's 'Last Night of the Proms', recording with the Mormon Tabernacle Choir to playing lead trumpet with the renowned Canadian Brass and a solo Command Performance for Her Majesty Queen Elizabeth II. Jens has also won major awards ranging from Grammy and Juno nominations to winning the prestigious Echo Klassik in Germany and British Bandsman 2011 Solo CD of the year as well as receiving several honorary doctorates.
Classically trained at the renowned Juilliard School in New York and McGill University in Montreal, Jens has performed as soloist with orchestras the world over.
Heralded internationally as an outstanding artist, critics have stated: "He played with golden timbre and virtuosic flair" (New York Times)", "a world-class talent" (Los Angeles Times), "it was one of the most memorable recitals in International Trumpet Guild history" (ITG), "performed brilliantly in the North American premiere of Bernd Alois Zimmermann's Concerto with the Toronto Symphony" (Toronto Star), and "he gave the virtuoso highlight of the evening with the Montreal Symphony".
Based in Los Angeles as Professor with High Distinction at UCLA, Jens is also director of the summer brass program at the Banff Centre in Canada. Jens has twice honoured TYWO with a guest appearance, one of the most popular and inspiring of our many guest artists.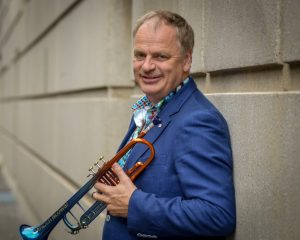 Toronto Youth Wind Orchestra
48 Ridgevale Drive,
Toronto, Ontario
M6A 1L1
Telephone/Fax: 416-321-TYWO (416-321-8996)
Email: backstage@tywo.ca
Charitable Organization Registration No. 14073 7966 RR0001
With respect and gratitude,
The Toronto Youth Wind Orchestra acknowledges that we are on the traditional territory of many nations including the Mississaugas of the Credit, the Anishnabeg, the Chippewa, the Haudenosaunee and the Wendat peoples. We also acknowledge that Toronto is covered by Treaty 13 signed with the Mississaugas of the Credit, and the Williams Treaties signed with multiple Mississaugas and Chippewa bands.